TheFL Review: The Freeze Clinic
The photo above was taken a week after my first facial with The Freeze Clinic. My skin has never looked better... until this week when I visited my favourite beauty haven once again for some much-needed TLC.
I met one of the founders, Jessica, on a Tuesday afternoon at their flagship location in the heart of Greektown. The Danforth is known for its urban, enviro-chic vibes; a perfect match for this vibrant spa. The interior is clean and minimalistic, yet extremely inviting. This is the type of place you don't mind arriving early for your appointment. Natural light streams through the front window - a perfect spot for a post-treatment selfie. I wish I wasn't running late that day because I would've enjoyed hanging out in the lounge more, browsing the retail section and quizzing Jessica on all her beauty secrets (her skin is FLAWLESS!).
The treatment itself was incredible. I've never felt so relaxed and present than I did in those 90 minutes. I chose to get the full treatment, which includes six stages that are worth every. single. penny. While you can see a noticable difference in the texture and tempermant of your skin after just one treatment, I know from other clients that the more you do it, the better the results are in the long-term. So that fun package of 3 or 6 treatments they offer? Worth it.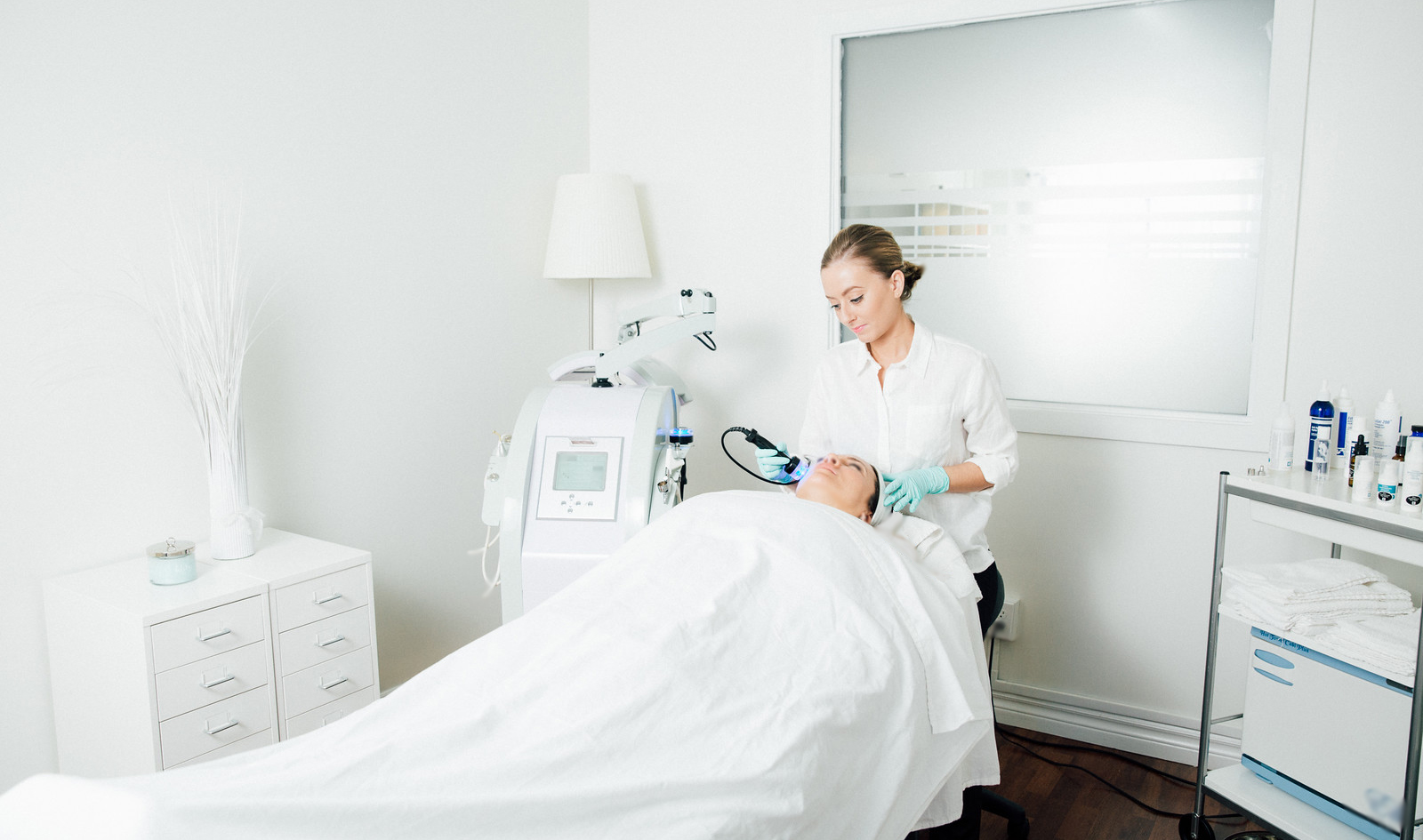 Jessica led me into one of the treatment rooms, where I had to lie on a sheet-lined table (and got to cozy up under a blanket!). Unlike most treatment rooms (think waxes, massages, doctor's offices etc.), I didn't feel uncomfortable. The big machine beside the table actually sparked my curiosity rather than anxiety. My eyes were peeled to see which products were being used so I can make a mental note to buy them later.
We started off with a generous amount of Consonant cleanser (see Summer Beauty Essentials). Nice and foamy, this cleanser takes off all your makeup and other pollution your skin has soaked up during the day. I notice that during the treatment, the method seems to do one side of the face, and then the other. The cleanse is thorough and my skin already feels better than it did before I walked in.
Diamond Microdermabrasion
You're probably thinking What?!? It's as indulgent as it sounds. Microdermabrasion. is a deep exfoliant that removes excess dirt and dry skin from the surface of your skin. The wand that the Freeze Clinic uses has diamonds around the edge of it, which help to get deeper into your pores without damaging your skin. With this process, you aren't walking away with a red, puffy face or - as one of the Real Housewives of Toronto puts it - a face hickey. This tool makes your skin shine bright (*like a diamond*).
Some may be wary of the suction-like feeling of microdermabrasion. Honestly, it was similar to the feeling of rubbing an eraser against your cheek. When I was in elementary school, I used to get so bored in class that I would take the back of my HB pencil and draw circles on my cheek with the little pink eraser at the end. The friction of microdermabrasion was exactly like that - except this time, it was actually erasing something.
Then came this rose-water oxygen mist. It was exquisite. It brought me back to a rainy summer day in an English garden, one I shared with my late grandfather many years ago. Nothing can compare to pure oxygen hitting your face, but accompanied by the richness of fresh rose and pure water made it feel like the heroin of the beauty world. It's been 3 days and I'm in withdrawal.
If the entire experience didn't feel indulgent enough, Jessica massages HydrExtreme by Consonant onto my face. If you haven't heard of this serum, let me quickly introduce it. It is LIQUID GOLD. It is an extreme hydration boosting serum delivering potent moisturization to your skin, outperforming the leading clinical ingredient (Hyaluronic Acid). It's formulated from Cassisa Angustifolia Seed Extract and Vegetable Glycerine. Basically, it's a miracle in a bottle. And during this facial, I probably got a full bottle poured onto my face.
YES. PILE IT ON.
The reason they use a large quantity of HydrExtreme is because, after the microdermabrasion, your skin is vulnerable. The deep exfoliant leaves skin dehydrated, which, if you aren't careful, can lead to skin damage or breakouts. The Freeze Clinic ensures your skin is full of moisture by using this serum, which will also assist in maintaining strong collagen production for healthier and younger looking skin.
Afterward, I receive the first round of laser treatments. Jessica turns on the red laser wand. She chooses the red light because it works for all skin types. Red lasers (safely) deliver energy to the skin to simultaneously repair collagen in the dermis (the deepest layer of the skin) and erase signs of aging in the epidermis (top layer of skin). It also benefits the acne-prone, as the deep healing benefits will reduce redness and inflammation.
Before the laser is applied, I have gel spread around my face. It is gooey like an ultrasound, but the method seems much more sophisticated. This portion of the treatment is super cool. They use a cold laser wand that includes microcurrent technology. So, while it addresses your complexion, the microcurrent is working on the muscles below the skin to help lift and give it a firmer appearance. As the wand rolls around my face, I can feel the small twitches and tingles that Jessica warned me about (this is the microcurrent stimulation working!). It is strange but also feels amazing. Best twitch of my life.
The next round of laser is applied with a collagen mask. If you know me, you would know I'm slightly obsessed with face masks. I've probably tried over 50 different ones. I love the collagen-infused ones because it is a blessing for the skin. Collagen keeps skin firm and ageless, as well as supports the hair and nails. I've recently tried to incorporate collagen powder into my nutrition (as a smoothie boost or in my coffee - which, I know, seems counter-productive).
The Freeze Clinic uses a marine collagen sheet mask. Maybe I've been brainwashed by all the Cowspiracy propaganda in the media, or maybe it's the thought that cow collagen probably comes from the hooves, but I was relieved to hear it was marine versus bovine. The mask was a sheet mask, thick and gel-like. It reminded me of a Dr. Jart+ one I've tried. Whatever it was, I would like to order a lifetime supply.
The laser I had transitioned like this: red as a baseline, green for pigment correction, blue for treating acne and inflammation, and finally yellow, for skin rejuvenation. As the light therapy proceeded, I was left alone in the room. It was so peaceful. I fell into a trance that was either the result of me finally mastering the art of meditation (unlikely) or taking a quick nap (probably). Either way, I finished the facial feeling like a brand new person.
I really enjoyed my time with Jessica. You can tell she has an unparalleled knowledge of skincare. Her business partner, Sachi, and her both studied under the same program as skin guru to the stars, Lea Eigard. There's no doubt in my mind that this radiant duo are the best in the city at what they do.
Because you can't get a facial every day.
When someone with that much knowledge about skincare is up-close and personal with your face, they are bound to have some suggestions on improving your complexion. I'm so thankful for what Jessica told me and can't wait to transform my routine and see the improvements.
1. Simplify your skincare routine.
I'm often the victim of Sephora Goggles - a real problem people face when they are browsing a Sephora and are enticed by the thousands of pretty products lining the shelves. It's important to remember that you don't need 15 different creams, a cleanser for every day of the weekn, and an exfoliant for every skin problem you may occur. All you need a is an effective cleanser (she loves Consonant), a face cream (for moisturizing), an eye cream & an SPF.
Yes, that's it. Four things. Your skin - and wallet - can celebrate.
2. Exfoliate once a week.
This past year was the first time that I had bad acne. It was a mixture of poor sleep, dorm living, a non-existent beauty routine, stress and cafeteria food. I was so embarrassed; I tried to stay away from people I knew as much as I possibly could, and stupidly - and ineffectively - put layers of cover-up in hopes that they would go unnoticed.
While the worst of the pimples have left my face, their existence lingers in the form of small red dots on my cheeks. Not ideal. However, I was told that if I am to exfoliate once a week, I will see a drastic improvement in my complexion. While I won't receive the same deep cleanse as the diamond microdermabrasion, the dead skin cells and dirt will go away and new layers of non-spotty skin can shine through.
3. Face Mask addiction? Good.
YES!!!!!!! This was music to my ears. Face masks can provide beneficial properties to your skin. Sheet masks typically contain collagen or moisture-boosting serums. Mud or clay masks, like Consonant's DHE mask, can be left on for 30 mins for exfoliant properties.
4. I should get more facials.
Three days post-treatment and my skin is glowing. Those nasty acne spots I mentioned earlier? Much less noticeable. My complexion has evened My under-eyes have the illusion that I sleep significantly more than I actually do. I haven't worn makeup all week - it hasn't even crossed my mind to put something on my skin. Because of my age, it's recommended that I come back every 3 months for a treatment. While a student budget wouldn't allow this type of luxury, this is worth putting away most of my paycheque for.
A huge thank you to Sachi and Jessica from The Freeze Clinic for their kindness, patience and the amazing treatment. If you are thinking of getting a facial, I cannot recommend them enough. Visit their website, follow them on Instagram and book an appointment ASAP.
The Freeze Clinic get's a massive #TheFL stamp of approval.
Until next time! xx J
P.S. As a thank you for reading this whole post, I can get you $20 off your first treatment at the Freeze Clinic! Send me a message on this site, or tweet me/dm me on instagram @janebradz for more info.